Interactions between Lasers and Electrons
Les lasers peuvent interagir avec des electrons de nombreuses manieres differentes. Avec un angle de croisement de 90° le laser peut etre utilise comme un fil incassable qui va produire des interactions Compton et permettre la mesure de faisceaux d' ́electrons qui ne font que quelques microm`etres de taille transverse. La diffusion Compton peut aussi etre utilisee pour produire des rayons X ou lorsque les collisions ont lieu frontalement comme cela s'est fait dans l'experience MightyLaser. La construction d'un accelerateur dedie dans ce but permet de construire une source compacte de rayons-X comme dans le projet ThomX. Finalement quand les photons se propagent dans la meme direction que les electrons dans un plasma ils peuvent creer un champ de sillage qui acc ́el ́erera les electrons avec un gradient tr`es fort, entrainant le besoin de diagnostics specifiques pour ces electrons. J'ai travaille sur des projets utilisant ces differentes configurations. Dans ce document je decris mon travail dans ces differents projets.
Lasers can interact electrons with electrons in several ways. With a 90° crossing angle the laser can be used as an unbreakable wire that will generate Compton scattering and allow the measurement of electron beams that are only a few micrometers wide. Compton scattering is also used when the beams collide head on to generate intense X-rays or y-rays as was done in the MightyLaser experiment. Building a dedicated accelerator for this purpose will make a compact X-ray source, as in the ThomX project. Finally if the photons are co-propagating with the electrons in a plasma they create a wakefield that will accelerate the electrons with very high gradients, creating the need for new diagnostics for these electrons. I have worked on projects using these different configurations. In this manuscript I describe my work on these projects.
Fichier principal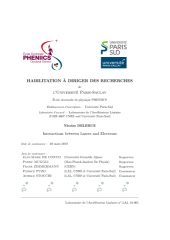 HDR_Nicolas_Delerue_finale.pdf (16.87 Mo)
Télécharger le fichier
Origin : Files produced by the author(s)